Ancient Egyptian Scientific Literature in the Papyrus Carlsberg Collection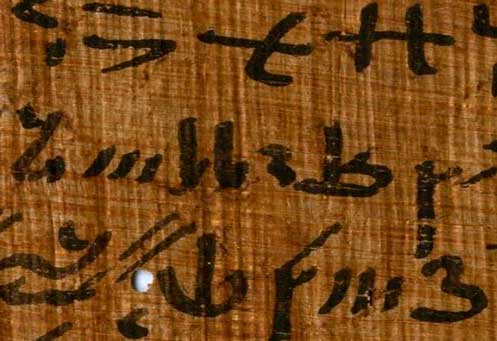 A workshop on May 31 which is open to all interested.
The newly established collaboration Scientific Papyri from Ancient Egypt: New Medical and Astrological Texts (SPAE) invites to the first conference within the collaborative framework held at the University of Copenhagen on Thursday May 31st, 2018. The conference centers on unpublished scientific texts in the Papyrus Carlsberg Collection.
The two leading sciences in the ancient Near East and Mediterranean world were medicine and divination, above all astrology. Ancient medical texts reveal early conceptions of human physiology and pathology and provide information about methods of diagnosis and prognosis of patients, critical commentaries on transmitted medicaments and treatment methods, as well as early attempts at systematized botanical classification. From ancient astrology developed the early calendrical and time-keeping systems that influenced those still in use today. Astrology was importantly used in the science of divination, which included the art of predicting the future through interpretation of the position of the heavenly bodies, interpretation of dreams, and interpretation of various other phenomena. Today, such practices are considered pseudo-science, but they were taken extremely seriously by the ancients.
The Papyrus Carlsberg Collection preserves a substantial assemblage of ancient Egyptian scientific literature, including material on medicine and astrology as well as other types of divination. It is the largest collection of medical and astrological texts in the demotic script worldwide, the bulk of which date to the two first centuries of the Common Era. It also contains earlier texts in the hieratic script and later texts written in Coptic and Greek. The latest addition to the collection is a substantial medical papyrus from the early New Kingdom, written in hieratic, of which larger parts are preserved in the Louvre Museum.
Owing to the general scarcity of Egyptian scientific papyri, it has long been a desire to publish this substantial corpus of material, not least that from the Greco-Roman period, because of the contribution this material can make to our understanding of the cross-cultural encounter between Greek and Roman scholars who took inspiration from Egyptian science. Scholarship has been hindered in the past on account of the scant publication record for scientific texts. The publication of the papyri from the Carlsberg Collection will therefore play a significant role in future research in the history of science and medicine in the ancient Near East and Mediterranean world.
For more information and registration, please visit our website.
Programme
South Campus, room 15A-0-13
09:00 – 09:30  Registration & coffee
Session 1: Pharaonic Medicine
Chair: Fredrik Hagen
09:30 – 09:45  Opening remarks
09:45 – 10:15  Hans-Werner Fischer-Elfert
                          A Medico-Magical Handbook on Recipes for Eye Painting in Berlin
10:15 – 11:00  Thierry Bardinet
                          Présentation de la première edition du papyrus Louvre E 32847
11.00 – 11.30  Sofie Schiødt
                          New Findings from the Unpublished Medical Papyrus Carlsberg 917
11:30 – 12:45  Lunch
Session 2: Demotic & Greek Medicine
Chair: Luigi Prada
13:45 – 13:30  Claire Bubb
                          The Movement of Fluids in Hippocratic Places in Man and the Egyptian
                          Vessel System
13:30 – 14:00  Amber Jacob
                          Proctological Treatments in the Carlsberg Demotic Medical Corpus
14:00 – 14:15  Coffee
Session 3: Coptic Medicine
Chair: Friedhelm Hoffmann
14:15 – 15:00  Sebastian Richter
                          Four Late Coptic Medico-Alchemical Papyri in Oxford and Paris
15:00 – 15:30  Anne Grons
                          Coptic Pharmacological Texts: The Coptic Herbal P. Carlsberg 500
15:30 – 15:45  Coffee
Session 4: Astronomy
Chair: Kim Ryholt
15:45 – 16:15  Lingxin Zhang
                          An Astrological Manual from the Tebtunis Library Concerning Women
16:15 – 17:00  Alexander Jones
                          Astronomical Papyri: What Have We Learned Since 1999?
17:00 – 19:00  Reception (South Campus, room 10-3-28)
18:00  Tour of the Papyrus Carlsberg Collection