The PhD programme at the Department of Cross-Cultural and Regional Studies
The PhD programme organizes courses and seminars that cover the broad field of regional and cross-cultural interests at the department. The link to the left presents up-coming activities that comprise historical and contemporary research as well as more theoretically oriented courses and seminars.
With some regularity will four core areas of research at the department be approached:
Fieldwork in the Humanities
Cultural heritage politics and identity formations
Materiality
World literature and the world of literature
The PhD programme also organizes writing-up seminars where drafts of thesis chapters are discussed and midway/pre-defence seminars. See courses and seminars.
As PhD candidate at the at Department of Cross-Cultural and Regional Studies you can always contact the PhD coordinator, professor Catharina Raudvere, with suggestions on courses, seminars or guest lecturers, or get more information about our writing-up seminars.
PhD dissertations 
See list of PhD dissertations at ToRS.
The PhD programme
Read about the many activities at the Faculty's PhD School on the PhD School home page.
PhD fellows at ToRS
| Name | Title | Phone | E-mail |
| --- | --- | --- | --- |
| Aarslev, Rasmus Johan | Enrolled PhD Student |   | E-mail |
| Baby, Irene | PhD Fellow | +4535335398 | E-mail |
| Brandt, Emil Madsen | PhD Fellow | +4535333847 | E-mail |
| Brødsgaard, Amanda | PhD Fellow | +4535327814 | E-mail |
| Cao, Alice | Enrolled PhD Student | +4535323687 | E-mail |
| Christensen, Marie Elisabeth Berg | PhD Student | +4535331073 | E-mail |
| Dybdal, Emilie | PhD Fellow | +4535335524 | E-mail |
| Farooqi, Amos | PhD Fellow | +4535323595 | E-mail |
| Flyvholm, Anne-Mai | PhD Fellow | +4535324722 | E-mail |
| Halvorsen, Asta Salicath | PhD Fellow |   | E-mail |
| Humbert, Sierra Josephine Louise | PhD Fellow | +4535325427 | E-mail |
| Jyderup, Jesper Lee | PhD Fellow | +4528752921 | E-mail |
| Kirk, Marianne Madsen | PhD Fellow |   | E-mail |
| Krgovic, Marija | PhD Fellow | +4545-35330197 | E-mail |
| Leine, Marie | PhD Fellow |   | E-mail |
| Nielsen, Mads Kildegaard | PhD Fellow | +4535332188 | E-mail |
| Sljukic, Dara | External, Ph.d Student |   | E-mail |
| Stevnhøj, Katrine | PhD Fellow | +4528752970 | E-mail |
Contact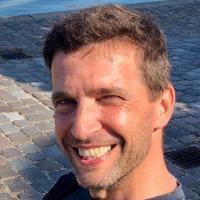 Associate professor Thomas Brudholm
Office:  10-4-29
Phone: +45 5130 2954
Email: brudholm@hum.ku.dk
PhD courses at the PhD school