Freedom of expression, media, and cultural industries in Russia: a hodgepodge of values and ideologies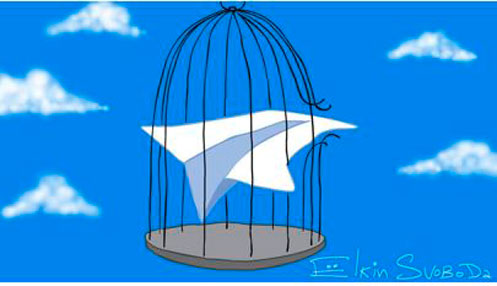 This workshop brings together two scholars, Elena Sherstoboeva (Higher School of Economics, Russia) and Vlad Strukov (University of Leeds, Britain). Each will make a presentation on the topic of their current research; their presentations will be followed by Q&A and a general discussion. Overall, the speakers aim to account for the transformations in Russian and Russophone media from legal, social, political and cultural perspectives. They will reveal the inner workings of Russian media and cultural industries, thus challenging the top-down approach that prevails in research and Western media reports about Russia.
Part 1. Regulation of Media and Entertainment industries in Russia: De-universalization of Freedom of Expression? (Elena Sherstoboeva)
In this presentation, I will argue that Russian media and entertainment law and policies exemplify the global trend of 'de-universalizing' the right to freedom of expression. The Russian case is particular in that it represents a 'pushback' to the Soviet past, its values and practices, despite widespread use of Western-style legal concepts, institutions and practices. By analysing the legal framework and a set of cases studies, I will discuss how this sophisticated mechanism is employed in contemporary Russia.
Part 2. Global Journalism and Transnational Media: The Russian Case (Vlad Strukov)
In this presentation, I will consider Russian media from the transnational perspective. In the West we know about government-sponsored media outlets such as RT and Sputnik; however there are many oligarch-owned and independently produced media outlets which have been instrumental in forming the agenda in Russian and transnational contexts. By analysing the system of Russian transnational media system, I will explore the problem of global journalism, that is, the imperative to work simultaneously in national and transnational settings.
No registration is required.
---
Bio
Elena Sherstoboeva
is an associate professor in the Department of Media at the National Research University Higher School of Economics (HSE) in Moscow.
She earned two PhD degrees - in Journalism (Moscow State University, Russia) and in Communication (Ramon Llull University, Spain).
Her specialized field of research is media and entertainment law and policies in post-Soviet countries.
Her current research project focuses on freedom of expression in Russia in the context of the international standards.
She is a founder and CEO of a company providing legal services for Russian performers, actors, authors as well as for media businesses.
She collaborates with the OSCE Representative on Freedom of the Media by providing legal expertise of laws on the media and access to information. She is also an expert of the Committee on Information Policy of the State Duma of the Russian Federation.
Vlad Strukov
is an Associate Professor in Film and Digital Culture (University of Leeds).
He is currently a visiting senior research fellow at the University of Copenhagen. He explores theories of empire and nationhood, global journalism and grassroots media, consumption and celebrity by considering the Russian Federation and the Russian-speaking world as his case study.
He is the founding and principal editor of an international journal, 'Studies in Russian, Eurasian and Central European New Media'.
During the last two years he has authored 'Contemporary Russian Cinema: Symbols of a New Era' and co-edited 'Memory and Securitization in Contemporary Europe', 'Popular Geopolitics: Plotting an Evolving Interdiscipline', 'From Central to Digital: Television in Russia' and 'New Media in New Europe-Asia'.
He is also an independent curator and makes regular appearances in international media such as the BBC, Al Jazeera, American Public Radio, RBK and others.