Cross-Cultural & Regional Studies > ToRS Calendar > The Greatest Taboo
Lunch Talk: The Greatest Taboo or the Last Frontier's Great Seduction?
Exhibiting Cannibals and its Challenges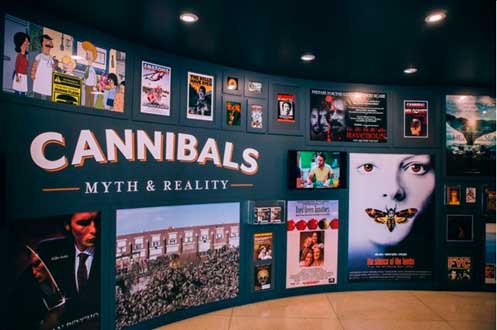 Talk by Dr. Emily Anderson (Former Curator at the Museum of Man, San Diego).
It is a subject that both fascinates us and terrifies us. The search for cannibal cultures, and legends of monstrous isolated maneaters, has animated literature, punctuated colonial reports, and enlivened fireside story time for centuries. It has also served as an uneasy founding question for the field of Anthropology, and the relationship between the discipline and this subject continues to be a source of discomfort. Why is the specter of the "maneater" so captivating?
These questions and many more were addressed in the process of developing the exhibition, Cannibals: Myth and Reality, which opened at the San Diego Museum of Man in March 2016. The exhibit's curator will discuss the process of developing this exhibit, including the challenges of presenting such a difficult and sensitive topic to a broad audience, and the ways that a problematic topic can be used to prompt conversations about inclusion and empathy instead.