Inaugural Symposium of The MSA Nordic
(Nordic Regional Group of the Memory Studies Association)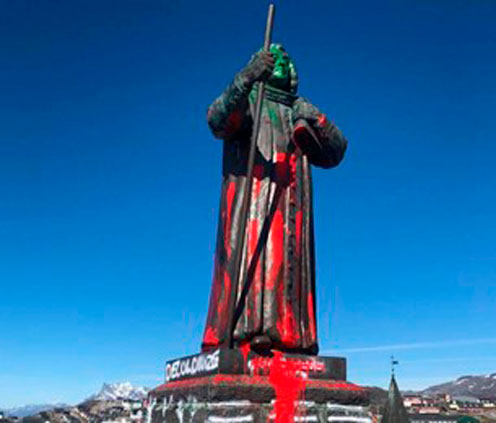 This conference brings together scholars of cultural and collective memory and researchers working on memory questions within related disciplines (oral history, heritage studies, history, ethnography, political science, psychology etc.).
Keynote: Eneken Laanes (University of Tallinn): Born Translated Memories: Transnational Memory, Domestication and Foreignisation
Panels and papers address issues such as:
Administrations of memory and memory politics in Europe and beyond
Post-colonial memory in the North and North Atlantic region
Transnational memory in Europe
Possibilities and limitations of "prosthetic memory"
Teaching history and memory
The conference is free and open to all students and staff at the University of Copenhagen, but due to corona restrictions, we need to register all on site participants. Online participation is not limited. If you would like to participate, please send a message to Tea Sindbæk Andersen.
Draft pogramme
The programme combines digital and online session.
10:15 Welcome (room 15A-0-13)
10:30-12:00 Museums, memories and representations (on site panel, room 10-3-28)
| | |
| --- | --- |
| Anne Brædder & Iben Vyff (Roskilde University) | A shared authority? Personal memories as museum dissemination |
| Anna Krakus (University of Copenhagen) | What Does it Mean to be Polish? Forging an Identity in Polish History Museums |
| Olga Zabalueva (Linköping University) | Making the Museum of Movements: Memory, politics and museum activism on the move |
| Erin Cory (Malmö University) | Re-membering: Telling Stories, Routing Solidarity |
10:30-12:00 Administration of memories (on site panel, room 15A-0-13)
Chair: Tea Sindbæk Andersen
| | |
| --- | --- |
| Yuliya Yurchuk (Södertörn University) | Negotiating "Green Cultural Heritage": between Conservation, Preservation, History and Memory. The case of Sweden |
| Danielle Drozdzewski (Stockholm University) | Political discourse, national identity politics and public opinion of refugees: A snapshot from Poland |
| Sara Dybris McQuaid and Isabel Bramsen (Aarhus University & Lund University) | The Past and Future are Present: Agonistic Dialogue and the Status of Consensus and Conflict in Northern Ireland |
| Emil Bjørn Hilton Saggau (University of Copenhagen) | Hallowed by thy war Helicopter. Reshaping the Serbian Orthodox memory of St. Jovan Vladimir after communism |
12:00-13:00 Lunch and business meeting (room 15A-0-13)
13:00-14:15 Prosthetic memory and mediation (on site panel, room 15A-0-13)
Chair: Anne Brædder
| | |
| --- | --- |
| Barbara Törnquist-Plewa (Lund University) | Film and prosthetic memory. The reception of the Polish film "Hatred" |
| Jessica Ortner (University of Copenhagen) | Narratology of Prosthetic memory? – Literary representations of war crimes in Višegrad |
| Tea Sindbæk Andersen (University of Copenhagen) | 'Fiction keeps the memory of the war alive' – readers' reactions to literature of the war in Bosnia |
13:00-14:15 Oral history and Memorial voices (on site panel, room 15A-0-13)
Chair: Sara Dybris McQuaid
| | |
| --- | --- |
| Eleonora Narvselius (Lund University) | "We just moved in, and this is it": Accommodation and private space as a site of (dis)remembrance of the vanished East-Central European populations |
| Annemarie Majlund (Aarhus University) | Pathway to the Past? Methodologies for Memories of a Contested Job: Practicing Oral History "off the record" and the Car Ride as a research event |
| Stine Grønbæk Jensen (University of Southern Denmark) | To open the drawer – transformations of the self and the social world through memory-work among former institutionalized children |
14:15-14:45 Coffee (15A-0-13)
14:45-16:00 Keynote (Digital, screening in room 15A-0-13)
Chair: Jessica Ortner
| | |
| --- | --- |
| Eneken Laanes (University of Tallinn) | Born Translated Memories: Transnational Memory, Domestication and Foreignisation |
16:15 Excursion to the Danish "Freedom Museum" (Museum of Danish Resistance)
19:00 Dinner (self-paid)
09:00-10:15 Memorial voices (digital panel, screening in room 15A-0-13)
Chair: Sara Dybris McQuaid

| | |
| --- | --- |
| Irēna Saleniece and Maija Grizāne (Daugavpils University, Latvia) | Social adaptation of Belarusian women migrant workers on Latvian-Belarusian borderland in 1950s-1970s |
| Ulla Savolainen (University of Helsinki) | Oblivion and Reception of the Soviet Repression of Ingrian Finns |
| Maryam Adjam (Umeå University, Sweden) | Echoes of the Missing: Absence as memory and heritage |
09:00-10:15 Literature and memory practices (digital panel, screening in room 10-3-28)
Chair: Jessica Ortner
| | |
| --- | --- |
| Charles I. Armstrong (University of Agder) | Exacting Justice: Seamus Heaney's Bog Poems and the Poetry of Witness |
| Fedja Borcak (University of Copenhagen) | Two writers return with their memories: The reception of war accounts by Saša Stanišić and Alen Mešković |
10:15-10:45 Coffee
10:45-12:15 Museums and National Memory (digital panel, screening in room 15A-0-13)
Chair: Sara Dybris McQuaid
| | |
| --- | --- |
| Riikka Taavetti (University of Helsinki) | Freedom in Museums: Estonian and Finnish National Histories at Labour Museum Werstas and Vabamu Museum of Occupations and Freedom |
| Julia Håkansson (Svaneholm Castle Museum) | Old spaces, new histories: Svaneholm Castle Museum in the 21st Century |
| Andrii Nekoliak (University of Tartu) | The 'Mounting' Memory Regulation Regime: Poland's 'Memory Laws' and Democracy in 1989-2020 |
| Nadim Khoury (Lillehammer University College) | Memory at the negotiating table? National Narratives and the Israeli-Palestinian Peace Process |
10:45-12:15 Competing Memories: Understanding Twofold Histories of Border Town (digital panel, screening in room 10-3-28)
Chair: Jessica Ortner
| | |
| --- | --- |
| Steen Bo Frandsen, Caroline Weber (Centre for Border Region Studies, University of Southern Denmark) | Flensbourg: A Border City with Many Histories |
| Jörg Hackmann (University of Szczecin) | From Stettin / Szczecin to Stecin / Szczettin: Competing or entangled mnemonic discourses? |
| Kimmo Katajala (University of Eastern Finland) | The Old Cathedral of Vyborg as a site of memory |
| Chloe Wells (University of Eastern Finland) | Vyborg is Y/ours: Meanings and memories of a borderland city amongst young people in Finland |
12:15-13:00 Lunch
13:00-14:15 Memory in Urban Spaces: A cultural psychological approach (on site panel), room 15A-0-13
Chair: Jessica Ortner
| | |
| --- | --- |
| Brady Wagoner & Ignacio Brescó de Luna (Aalborg University) | Making meaning of memorials |
| Séamus A. Power (University of Copenhagen) | From the Elites to the Streets: Memory and Social Change |
| Sarah H. Awad (Aalborg University) | Empty squares |
13:00-14:15 Transnational, travelling and entangled memories (on site panel, room 10-3-28)
Chair: Tea Sindbæk Andersen
| | |
| --- | --- |
| Sune Haugbølle (Roskilde University) | Entanglement and Historical Memory: Re-constituting Scandinavia in Global Palestine |
| Lisanne Wilken (Aarhus University) | Sharing and challenging memories about European pasts in national and transnational conversations on Twitter during the final of the Eurovision Song Contest |
| Tijana Mišković (The National Gallery of Denmark and University of Copenhagen) | Travelling memory in artworks by Ex-Yugoslavian artists now residing in Denmark |
14:15-14:45 Coffee (15A-0-13)
14:45-16:00 Media, archives and teaching (digital panel, screening in room 10-3-28)
Chair: Tea Sindbæk Andersen
| | |
| --- | --- |
| Silke Arnold-de Simine (Birkbeck, University of London) | Distributed Memory |
| Dagmar Brunow (Linnaeus University) | Countering colonial amnesia - Recognizing Nordic colonialism in digital film archives |
| Astrid Rasch (Norwegian University of Science and Technology) | Teaching memory politics after empire |
| Gunnthorunn Gudmundsdottir (University of Iceland) | Memory, War and Histories from the Margins |
14:45-16:15 Activating memory (on site panel, room 15A-0-13)
Chair: Sara Dybris McQuaid
| | |
| --- | --- |
| Anne Folke Henningsen (University of Copenhagen) | Renaming the streets. Postcolonial memory activism in Berlin |
| Agnes Malmgren (Lund University) | Recycled solidarity. The mnemonic fuel of (inter-group) solidarity in contemporary Poland |
| Pauline Stoltz (Aalborg University) | Silence, violence and gendered resistance |
| | A tale of two monuments – On memory politics in the entangled cities of Nuuk and Copenhagen |