Perpetrator Disgust: The Moral Limits of Gut Feelings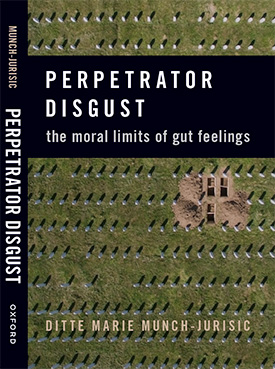 Book Launch.
What is the significance of our gut feelings? Join us for a discussion of Ditte Marie Munch-Jurisic's recently published book, which considers this question through the phenomenon of perpetrator disgust. Across time and cultures, individuals who have committed atrocities have been known to exhibit severe emotional and physical distress during the act of violence or upon recalling it, with symptoms as severe as vomiting and convulsions. Munch-Jurisic explores whether such responses reflect a moral judgment on the part of the perpetrator and asks what conclusions we can draw about the relationship of our gut feelings to human nature, cognition, and moral frameworks. After a short book presentation, experts on foreign fighters (Maja Greenwood), history (Ana Antic) and philosophy of emotions (Charlie Kurth)  will offer their commentaries on the book and open up the floor for discussion.
Programme
16:00
Refreshments, coffee and tea
16:15
Thomas Brudholm (University of Copenhagen)
Welcome
16:20
Ditte Marie Munch-Jurisic (University of Copenhagen & University of Virginia)
Book presentation
16:40

Maja Touzari Greenwood (Danish Institute for International Studies)
Ana Antic (University of Copenhagen)
Charlie Kurth (Western Michigan University & Helsinki Collegium for Advanced Studies)

Panel discussion
17:40
Q & A with the audience
18:00
Reception
Sign-up
Please sign up no later than 28 September.