18 June 2014
Funding Success for Near Eastern Archaeology at ToRS
Funding
ToRS Assistant Professor Tobias Richter has been awarded a DKK 6,8 million Sapere Aude Research Leader grant to continue his groundbreaking research into the emergence of food production in eastern Jordan 10,000 years ago
Tobias has already carried out two successful seasons of fieldwork in the Qa' Shubayqa area in the Harra desert in northeastern Jordan, where he and his team have discovered a series of 14,500 – 9,000 year old hunter-gatherer and early farming sites.
Excavations have produced clues concerning the impact of climatic changes on late Pleistocklene hunter-gatherer groups and one of the best preserved botanical assemblages from the southern Levant, in addition to stone architecture, stone tools, faunal remains, beads and human burials.
The DFF Sapere Aude Reserch Leader award will enable Tobias to continue this research for the next three years starting in September 2014, and will significantly strengthen research in Near Eastern prehistoric archaeology at ToRS. Tobias will be joined by two post-doctoral researchers as part of this project in the next few months.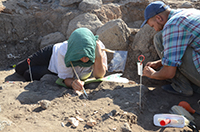 The University of Copenhagen has a long tradition of research into the origins of farming in southwest Asia and holds significant collections from Neolithic sites in the region.
Previous and ongoing projects include the excavations at Beidha directed by Diane Kirkbride and excavations at the Neolithic site Shkarat Msaied in southern Jordan directed by Ingolf Thuesen.
More details on the award can be found here
Contact
Assistant Professor Tobias Richter
Telephone: +45 51 30 28 59
E-mail: richter@hum.ku.dk
Communications Officer
Ditte Maria Søgaard
Telephone: +45 28 75 89 00
E-mail: dms@hum.ku.dk