7 February 2022
The CCBS welcomes a new member of the team; Sierra Humbert
New PhD student
Sierra Humbert has received a 3-year PhD scholarship from the Velux Foundations and will be contributing to the research project "Waste: Consumption and Buddhism in the Age of Garbage"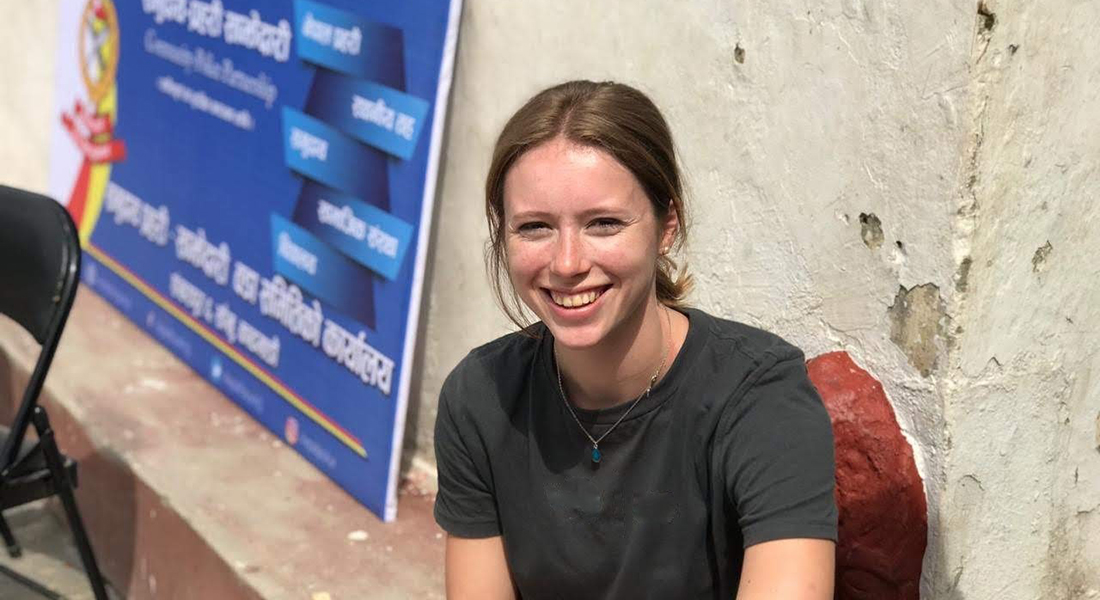 We are happy to announce that we have a new member of the CCBS research team! Sierra Humbert has received a 3-year PhD scholarship from the Velux Foundations and will be contributing to the research project "Waste: Consumption and Buddhism in the Age of Garbage". We are excited for Sierra to join us in Copenhagen!
Working on a three month waste management project in Sankhu, Nepal, Sierra learnt from residents that despite the Blue Waste2Value scheme, a social enterprise addressing solid waste, sanitary waste remains an unaddressed problem. While a PhD-fellow at the CBBS, Sierra will be collaborating on the project "Waste: Consumption and Buddhism in the Age of Garbage." Her research centres on the experiences, attitudes and influences that inform consumption practices and sanitary waste for female pilgrims to Vajrayogini temple, a significant pilgrimage site for Hindus and Buddhists in Sankhu, Nepal. During her PhD, she will produce an ethnographic account of women's experiences of menstrual hygiene management (MHM) in Sankhu, focusing on the relationship between Newar Buddhist ritual practices, sacred spaces and sanitary waste imaginaries and practices. Her project holds theoretical avenues for investigating the transformative impact of religious practices upon the practitioners' experiences and understandings of themselves, their community and the environment within the context of sanitary waste.
Sierra's ambition while working with the CBBS is to contribute to the Anthropology of Buddhism within the context of contemporary environmental and gender issues. Her research project's engagement with the complex relationship between Buddhism, caste and gender amongst the Newars will inform NGO and local authority action towards Menstrual Hygiene Management by situating sanitary waste within contemporary religious practices and understandings. Most importantly, it will provide alternative solutions and ways of thinking to address the practical challenges concerning sanitary waste that Newar women, and women internationally, navigate on a daily basis.
Sierra graduated from her Bachelor's in Human, Social and Political Sciences at the University of Cambridge in 2018, specialising in Social Anthropology. In 2020, she completed an MRes in Anthropology at University College London where her research project focused on Plum Village, an international Mahayana Buddhist tradition founded by Zen Master Thich Nhat Hanh. Adapting her intended fieldwork during the UK national lockdown, she undertook qualitative digital fieldwork focused on community creation within the COVID-19 pandemic. In particular, she explored how conceptualisations of the body and person are transformed through meditation and mindfulness, and how these practices are mechanisms for Plum Village to proliferate worldwide.
Alongside her studies, Sierra tutored in Anthropology, Sociology and History up to master's level and regularly taught students at international summer schools in the UK. She is looking forward to contributing her knowledge on Anthropological theory and concepts, Materiality and Religion while working with the CBBS. Sierra has also travelled extensively in South Asia, South East Asia, Australia and Europe and in her spare time enjoys participating in activities such as Taekwondo and Ballet.