East European Studies
The East Europe research group carries out interdisciplinary language-based studies in post-Soviet and post-communist regional contexts, with a focus on history, culture, societies and politics in Russia, Ukraine, the Western Balkans and Poland.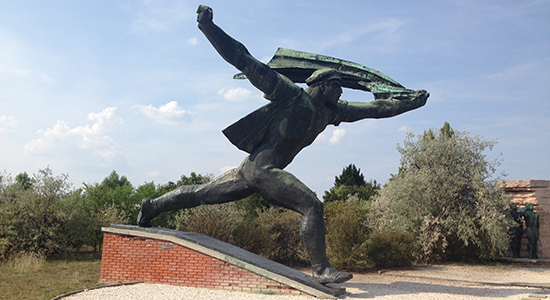 The research in the East European section is driven by the importance of understanding cultures and societies in this region in the context of its rich, multilayered and often internally contradictory historical legacies. The area, which has often been defined as a borderland between the "West" and the "East", taps into the cultural heritages of Byzantium, the world of Islam, Western Europe, and the nomadic cultures of Central Asia. In the past, the region was dominated by the powerful continental empires of the Ottomans, Habsburgs and Romanovs. In the 20th century, it emerged as the testing ground for the ideas of communism and as the geopolitical competitor of Western capitalist society and liberal democracies. The inquiry into Eastern Europe as a unique historical phenomenon and ongoing battlefield in Europe requires multidimensional and interdisciplinary studies.
The research group on East Europe focuses on such fields as identity and memory politics, uses of history, ideology and conceptual history, protest and political activism, migration, literatures and censorship, languages and translation, religion, cultural heritage, media and films.
The group's scholarly expertise is especially strong in covering such topics as contemporary history and politics in South-Eastern Europe, Polish history, culture and arts, Russian language and linguistics, Russian and post-Soviet literature, post-Soviet Russian politics, society, ideology and culture. The group has made an important contribution to the general media coverage of the most topical events in the region, and informed the national audience about the region's main cultural and political features. Members of this group have published extensively in national and international academic journals and publishing houses.
Researchers
| Name | Title | Job responsibilities | Phone | E-mail |
| --- | --- | --- | --- | --- |
| Andersen, Tea Sindbæk | Associate Professor | Balkan Studies | +4521671923 | E-mail |
| Dedovic, Ismar | Postdoc | Balkan Studies |   | E-mail |
| Hvozdetska, Kateryna | Research Assistant | Balkan Studies | +4535328780 | E-mail |
| Jeftic, Alma | Postdoc | Balkan Studies | +4535329931 | E-mail |
| Kirk, Marianne Madsen | PhD Fellow | Balkan Studies |   | E-mail |
| Krakus, Anna Helena Alexandra | Assistant Professor - Tenure Track | Polish Studies | +4535332258 | E-mail |
| Krgovic, Marija | PhD Fellow | Balkan Studies | +4545-35330197 | E-mail |
| Lorentzen, Elena | Associate Professor | Russian Studies | +4551303062 | E-mail |
| Reinhardt-Larsen, Jon | Research Assistant | Russian Studies | +4535325741 | E-mail |
| Roesen, Tine | Associate Professor | Russian Studies | +4551302529 | E-mail |
| Skvirskaja, Vera | Associate Professor | Comparative Culture Studies | +4593588676 | E-mail |
| Sljukic, Dara | External, Ph.d Student | Balkan Studies |   | E-mail |
| Stevnhøj, Katrine | PhD Fellow | Russian Studies | +4528752970 | E-mail |
| Suslov, Mikhail | Associate Professor | Russian Studies |   | E-mail |